Interested in rafting and biking with Ascend Travel? Nothing beats the Andes for recreation. Check out our variety of mountain biking and whitewater rafting packages - your adventurous side will thank you...









Biking and Rafting Options


















Sacred Valley Biking (1 day)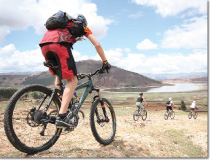 This incredibly scenic ride starts in the Andean highlands around Moray (3550 meters or 11,640 feet) and ends beside the Urubamba River in the Sacred Valley of the Incas. We cycle amid traditional Andean communities where the way of life has changed very little since the Spanish arrived nearly 500 years ago. Dirt roads, llama tracks, steep descents and beautiful scenery await you in this fantastic mountain biking adventure!
Lares Biking, BBQ, and Hot Springs (2 days, 1 night)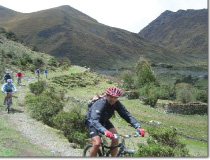 Get geared up for this awesome mountain biking trip, which is one of the most exciting Cusco has to offer. Complete with two descents, over 100 kilometers (62 miles) of terrain, hot springs, BBQ, and camping – it's a good way to satisfy your desire for adventure! A full-suspension Kona mountain bike will be your trusty steed on this voyage. On day one, climb to Amparaes Pass and enjoy a 2000-meter descent and then a relaxing soak in the Lares Hot Springs complete with a hot plate of BBQ. On day two, climb to Lares Pass and enjoy another incredible ride on authentic Inca Trails. This is your ticket to Cusco excitement!
The Back Door to Machu Picchu Biking Adventure (3 days, 2 nights)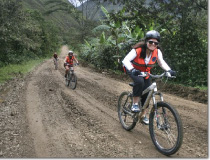 Check out this three-day multi-adventure trip to the breathtaking ruins of Machu Picchu while trekking and mountain biking! We promise you that you have never had an exhilarating experience such as this - the combination of the downhill mountain biking, trekking and exploration of Machu Picchu's ruins is simply fantastic! Enjoy over 75 kilometers (46 miles) of biking, an optional visit to one of South America's best ziplines, trekking along the train tracks to Machu Picchu, and 2 nights lodging! This "Back Door" adventure to Machu Picchu is the most adventurous way to discover this world wonder!
Rafting the Vilcanota 1d
Coming Soon!
Rafting the Vilcanota 2d/1n
Coming Soon!
Rafting the Apurimac 3d/2n
Coming Soon!